shore excursions in Kusadasi, Turkey, shore excursion for cruise passengers, Kusadasi, Turkey, tours, Ephesus tours in Kusadasi, ephesus tours



Avoid the crowd: Have a private car, a driver and an experienced highly knowledgeable English-speaking guide at your personal disposal, for a full or half day, to enjoy the suggested tour below - you set the pace. Alternatively, you may design a tour of your own - tailored to your own interests and preferences.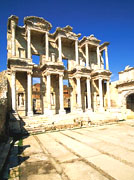 Ephesus Tour
Visit the remains of the Artemis Temple, one of the seven wonders of the ancient world, before arriving at the ancient city of Ephesus, the most well preserved Greco-Roman city in the world. Following a lunch break, visit the House of Virgin Mary (where it is believed that she spent her final days) and the old Seljuk Mosque of Isabey in Selcuk. Then drive to Kusadasi harbor.

Please inquire for our rates.