DAY 1
Arrival in Istanbul. Airport pickup and transfer to the hotel. Check into the hotel and have some time to relax. An orientation of the city will be given shortly afterwards, with the remainder of the day free to spend at your own leisure about the city. Overnight in Istanbul.
DAY 2
After breakfast, visit Topkapi Palace and Hagia Sophia. Lunch break at an authentic Turkish restaurant before visiting the Blue Mosque, Hippodrome, Basilica Cistern and Grand Bazaar. Overnight in Istanbul.
DAY 3
After breakfast, there is a half-day tour of the Bosphorus. Visit the Spice Market followed by a cruise by ferry through the Bosphorus. Stop at Ortaköy for a coffee break. Spend a free afternoon at your own leisure. Overnight in Istanbul.
DAY 4
Morning departure to Çanakkale. Cross the Dardanelles and visit Troy and Assos. Overnight en route in Ayvacik.
DAY 5
Departure in the morning to Pergamon. Visit the Acropolis and Asclepion. Then drive to Akhisar and visit the Church of ancient Thyatira. Drive to Izmir. Overnight in Izmir.
DAY 6
Visit the Church of St. Policarp, the oldest church of ancient Smyrna, symbolizing the community of the seven churches of the Apocalypse. Then depart for Sardis, ancient capital of the Lydians and visit the Church of Sardis. Continue on to Alasehir, to see the ancient Philadelphia Church before driving to Pamukkale for a leisurely bath in the hot spring pool of your hotel. Overnight in Pamukkale.
DAY 7
Visit the ancient city of Hierapolis where St.Philip the Apostle became a martyr. Drive from Pamukkale to Eskihisar - ancient Laodicea. Visit the Church of Laodicea and the ruins. Drive to Aphrodisias, the city of the Goddess of Love, en route to Kusadasi. Overnight in Kusadasi.
DAY 8
Set off for Ephesus to visit the spectacular remains, the House of Virgin Mary and the Basilica of St.John, followed by a stop-off in the formerly Greek picturesque village of Sirince. Continue on to Ayvalik, where you may relax on the hotel-side beach. Overnight in Ayvalik.
DAY 9
Departure for Istanbul. Arrival and overnight in Istanbul.
DAY 10
Transfer from the hotel to the airport.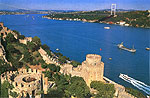 Bosphorus

Sardis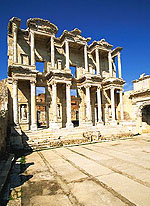 Ephesus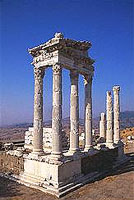 Pergamon