Ephesus Tour

The tour begins by visiting the remains of the Artemis Temple, one of the seven wonders of the ancient world. Afterwards, it proceeds to the spectacular main site of Ephesus, undoubtedly the most superbly preserved Greco-Roman city. Unmistakable highlights surviving among the ruins are the Celsius Library, Agora, Theater, Odeon, Trajan Fountain, Domitianus Temple and Roman Latrines. Following a lunch break, visit the House of Virgin Mary; reputed to be where she spent her final days.
Priene, Miletus & Didyma Tour

Begin the day among the Hellenic art and architecture of the ruins in Priene, an ancient Ionian city dramatically overlooking the fertile plains of the Meandre Valley. Afterwards, continue to the second archaeological site of the day; the ancient city of Miletus, formerly a prosperous commercial harbor city and the most prominent in Anatolia in its heyday. Most noteworthy among the scattered ruins are the Great Theater and Roman Baths. Eventually, the tour reaches Didim town, where there is time for an open buffet lunch. Following that, the tour proceeds to the ancient city of Didyma, the setting for one of the most colossal temples in the Hellenic World, venerating the God Apollo.
Pergamon Tour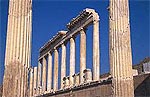 Upon arrival in the ancient city of Pergamon, enter the Red Court, a precinct of successive religious worship - evident in the various transformations of a formerly pagan temple to a Byzantine basilica, eventually to a mosque. Following a lunch break, drive up to the Asclepion on the hilltop, once a world-renowned medical center of physicians and scholars. Afterwards, visit the impressive remains of the Acropolis.
Pamukkale & Aphrodisias Tour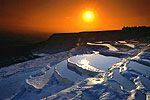 The tour begins among the ancient ruins of Aphrodisias, where Aphrodite - the Goddess of love and fertility was worshipped. Following a lunch break, the tour picks up again at Pamukkale, or 'Cotton Castle', the name so derived as a result of the calcium deposited terraced travertines, which cascade in snowy white down the mountain side slopes. Visit these travertines as well as the nearby ruins of the ancient city of Hieropolis. Finally, there is time set aside for a relaxing swim in one of the more unusual hot pools supplied by the natural springs - marked by a splendid scattering of ancient stone columns underwater and around.