Half Day Izmir City Tour

Begin this half-day city tour in Izmir with a visit to the 4th century BC Great Castle of Alexander and the Agora, atop Pagos hill, with a view that spans the length and breath of the city. Next, check out the artifacts recovered from Old Smyrna and Ephesus on display at the Archaeological Museum. Other sights to behold on the way include the symbol of Izmir itself - the Clocktower; and Karsiyaka, the residential part of the city. Afterwards, cross the bay by boat to Kemeralti, where you will find the old shopping bazaars.
Ephesus Tour

The tour begins by visiting the remains of the Artemis Temple, one of the seven wonders of the ancient world. Next, you will proceed to the spectacular main site of Ephesus, undoubtedly the most superbly preserved Greco-Roman city. Unmistakable highlights surviving among the ruins are the Celsius Library, Agora, Great Theater, Odeon, Trajan Fountain, Domitianus and Hadrian Temples, Bouloterian and Roman Latrines. Following a lunch break, visit the House of Virgin Mary; reputed to be where her final days were spent. A final visit to the Archaeological Museum ends the tour.
Sardis Tour

Upon arrival in Sardis, once the capital of ancient Lydia, the tour begins at the ruins of the Temple of Cybele and Diana, where a 4th century basilica stands alongside. Stroll the imperial road of marble, nearby the river Pactalos. Visit the re-constructed synagogue bearing fine mosaic paving and the gymnasium with serpentine fluted columns.
Pergamon Tour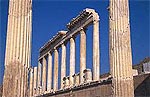 Upon arrival in the ancient city of Pergamon, the tour begins at the rather impressive remains of the Acropolis. Just some of the highlights on view include the Library, the steepest theater in Anatolia, Temples of Trajan and Dionysos, the Altar of Zeus, the Sanctuary of Demeter, the terraced Gymnasium and the Agora. Following a lunch break, visit the Archaeological Museum, before driving up to the Asclepion on the hilltop, once a world-renowned medical center of physicians and their scholars.