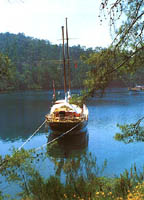 The more affordable way of taking the Blue Voyage is to rent a cabin in a pre-scheduled yacht, the duration of the voyage usually being one week. The cruises are generally operated in 20-25 meter wooden vessels (60-80Ft), with between 5-10 classic Mediterranean style cabins. Each cabin has an en-suite bathroom with hot & cold water, a shower and a small amount of space to store luggage.
The boats usually cruise by engine and the cruising time is normally limited to 2 or 3 hours per day. Overnight moorings are generally made in tiny coves about 20-30 meters close to the shore, where pine trees approach the sea. The crew consists of a captain, a cook and one or two deckhands, all of whom are highly experienced in their work and responsibilities. Crews' cabins are separated from those of the passengers. Ensuring the continued comfort of guests is their main priority.

Prices per person in double occupancy

May - October

360 EURO

June - Sepember

405 EURO

July - August

450 EURO

**Prices are per person in double occupancy, full board, on a one-week cruise.
**Single supplement is +50% per person.
**All yachts are 19-25 meters in length. All cabins have en-suite WC & showers. There is a music ---iset, VHF Radiotelephone and a dinghy on each yacht. Crew consists of a captain, a cook and a --ideckhand.